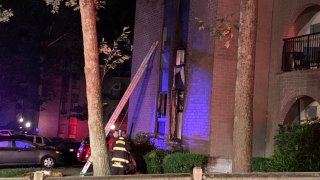 One man is dead following an early morning fire at an apartment in Weymouth, Massachusetts.
Firefighters responded to the Avana Weymouth Apartments on Mediterranean Street shortly before 2a.m. on Saturday and saw smoke billowing out of a window of a first floor apartment.
According to the Norfolk District Attorney's Office, 40-year-old Bruce Miller, who lived in the apartment died in the fire.
Fire crews from nearby fire departments helped to extinguish the two-alarm fire.
According to the Weymouth Fire Department, a firefighter was injured in the incident and was treated at a hospital and released.
It's unclear what caused the fire, but an initial investigation suggests the fire was likely accidental, according to the Fire Marshal.