A massive fire broke out at the Veranda House hotel in downtown Nantucket Saturday morning, and firefighters were still battling it hours later.
Police urged locals and tourists to avoid the area, and part of the 17th Century structure was seen collapsing. Fire officials said all guests were accounted for.
Fire crews responded to the hotel on Step Lane shortly before 7 a.m, officials said. The blaze sent smoke high above the island.
An off-duty fire captain and several people outside the hotel helped evacuate guests from the hotel, according to Nantucket Fire Chief Stephen Murphy.
"Damage to the structures involved is extensive with several of the buildings being total losses," Murphy said in a statement.
Heavy smoke was seen coming out of surrounding buildings. The fire apparently spread to other buildings in the area.
Two firefighters were taken to a nearby hospital for possible heat exhaustion. One firefighter is also being treated for a back injury, officials said.
The interim president and CEO of Nantucket Cottage Hospital confirmed to NBC10 Boston later Saturday that "several individuals were treated" at the hospital for "injuries sustained while responding to the fire at Veranda House hotel."
"We are incredibly grateful to the Nantucket Fire Department and all emergency personnel, including the many firefighters from Cape Cod who came to assist," Jeanette Ives Erickson, RN, DNP, said in a statement. "Their swift response, in addition to the selfless actions of several civilians nearby, saved many lives today."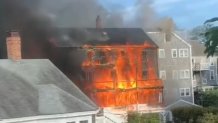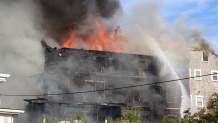 Firefighters from other departments on Cape Cod, including Yarmouth and Hyannis, on the mainland, arrived by ferry to help put out the flames.
Nantucket police said about 12:15 p.m. that the fire was still active.
It is unclear what caused the fire.
Dating back to the 1600s and with 18 rooms, the Veranda House is one of several hotels owned by the Nantucket Resort Collection. There was no statement about the fire posted to the hotel by early Saturday afternoon.
July is peak season on Nantucket, one of Massachusetts' top tourist destinations, and its hotels are frequently booked all summer.