Two firefighters were seriously injured battling a weekend blaze at a home in New Boston, New Hampshire, authorities said.
According to the New Boston Fire Department, the department's chief and another firefighter suffered first- and second-degree burns.
Firefighters were called to the River Road home around 2:40 p.m. Saturday and found heavy fire rapidly spreading throughout the home.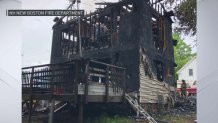 Initial efforts by firefighters were hampered by live wires that were down in front of the building, officials said. Eversource was called to the scene to shut down power in the area.
Water was placed on adjacent structures to prevent the fire from spreading, and crews were able to confine the flames to just one building, however it was severely damaged.
No other injuries were reported. The residents of the house were not home at the time of the fire, officials said. A rabbit was rescued from the home and taken to Manchester Animal Hospital.
Local
In-depth news coverage of the Greater Boston Area.
There was no immediate word on the cause of the blaze.