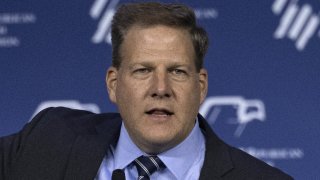 The omicron-fueled COVID surge continues to drive high case counts and hospitalizations across New Hampshire, Gov. Chris Sununu said Wednesday.
Sununu gave his weekly update on the pandemic, and said cases remain high.
"Omicron is definitely out there and is circulating far more widely than the testing numbers even suggest," he said.
Another 595 cases were reported Wednesday, along with 24 new deaths. The test positivity rate is now at 22% and 410 people are hospitalized, health officials said.
On Tuesday, New Hampshire reported 1,785 new positive test results for Monday, 2,800 cases from Sunday, 5,511 cases from Saturday and 2,901 for Friday for a total of almost 13,000 cases over the 4-day weekend. The state also announced three new COVID-19 related deaths.
Since the start of the pandemic, there have now been over 250,000 New Hampshire residents with COVID and over 2,000 deaths. Over 400 people are currently hospitalized.
One positive, Sununu said, is that people are experiencing much less severe symptoms with omicron than they did with the delta variant.
Still, he said getting vaccinated and boosted is critical to limiting the severity of symptoms. Toward that end, he said two new walk-in vaccination sites are opening this week in Stratham and Concord. And locations in Salem, Manchester and Nashua will be added next week, with a Keene site going online by the end of January.
Sununu also said he will be looking to spend another $10 million to help purchase at-home COVID-19 tests for New Hampshire residents.