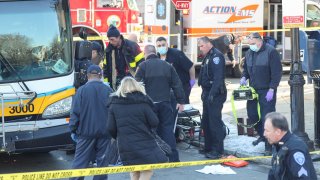 A man was hit by an MBTA bus in Winthrop Wednesday afternoon.
The crash happened at Pauline and Hermon streets, in front of Metcalf Square and the town's police station. Winthrop firefighters were able to free the man.
Paul Revere Transportation, the contracted provider that was operating the bus, said that their driver made a left turn onto Hermon Street and hit an 81-year-old man. The company said the man had "significant lower body injury" and was taken to a local hospital for treatment.
"Paul Revere is fully cooperating with State Police, MBTA Police and Winthrop Police Department investigators. Personnel files show the operator is current with all MBTA safety training guidelines and was not involved in any major incidents during seven years of service. He will remain on paid administrative leave pending the outcome of the investigation," the company statement reads.
MBTA Transit police are on scene investigating.
This is a developing story. Check back for updates.