An MBTA train has derailed at Wellington Station in Medford, leaving the transit agency to replace train service with shuttle buses on part of the Orange Line for three weeks.
No one was hurt in the derailment, according to the Medford Fire Department and the MBTA, which said there were about 100 passengers on board at the time.
The MBTA said the derailment happened about 11:40 a.m. in a work zone, when a slow-moving northbound train was crossing to the southbound track to accommodate ongoing maintenance work.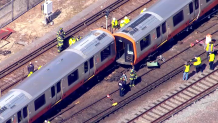 Aerial footage from the scene showed two new Orange Line train cars that appeared to have jumped the tracks, though both were upright. Crews were working to put the train back on the rails.
Shuttle buses are replacing train service between the northern terminus of the line, Oak Grove, and Community College Station. The MBTA said the service changes would be in effect for the next three weeks to replace a decades-old switch that was damaged when the train derailed.
Additional infrastructure upgrades will be carried out during that time, according to the MBTA.
It wasn't immediately clear what caused the train to derail, but the MBTA said all of the new cars on the Orange Line and Red Line would be held off the tracks as their performance is analyzed.
The T plans "a thorough damage assessment" to examine the train set once it returns to a maintenance facility, a spokesman said.
The new Orange Line train cars went into service in August 2019. They are more spacious and have wider doors and more safety features.
The entire fleet of Orange Line cars will eventually be replaced with the new version, though the rollout has been bumpy, with the cars initially making odd noises that were eventually traced to a faulty wear pad, then temporarily taken out of service last March for a maintenance issue.
The MBTA is among the nation's worst transit agencies when it comes to derailments, according to federal records the NBC10 Boston Investigators reviewed.
Over the past five years, the MBTA reported trains came off the tracks 57 times, and 27 of those incidents involved passenger trains.
Only the transit system in New Orleans saw more derailments during that time, with a total of 77.
A string of high-profile derailments in 2019 prompted creation of an independent panel to examine safety at the MBTA. In December of that year, the group concluded that the T had a "questionable" approach to safety including frequent lapses in maintenance and inspections.
Chris Lisinski of the State House News Service contributed to this report.
NBC/State House News Service