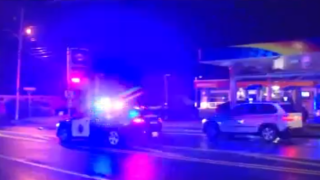 A pedestrian was killed and another injured after being hit by a car in Brockton, Massachusetts early Tuesday, police said.
Authorities were informed of the crash in front of 827 Belmont St. at about 12:30 a.m., Brockton police said.
Where first responders arrived, two men had been struck by a white BMW sedan, according to the Plymouth County District Attorney's office.
Both men were taken to Good Samaritan Hospital for treatment where sixty-two-year old Joseph Driscoll, of Brockton, was pronounced dead, the district attorney said.
The other victim, who is not being identified, suffered non-life-threatening injuries.
Brockton Police, Massachusetts State Police and the Plymouth County District Attorney's Office are investigating. Authorities said it appears that the two men were using the crosswalk when they were struck.
The driver of the vehicle involved stopped after the crash.