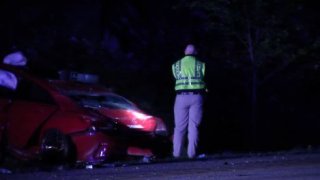 A 26-year-old Everett man is hospitalized with potentially life threatening injuries after a two-car crash in Dedham, Massachusetts Wednesday night.
The crash occurred on Route 95 south near Route 1 around 11:30 p.m. between a 2015 Mercedes-Benz CLA sedan driven by a 26-year-old Everett man and a 2016 Volkswagen Golf hatchback driven by a 17-year-old male from Canton.
The 26-year-old Everett man suffered serious injuries. He was first taken to Beth Israel Hospital in Needham, and from there was taken to Beth Israel in Boston.
The cause of the crash remains under investigation by Troop H of the Massachusetts State Police with assistance from the State Police Collision Analysis and Reconstruction Section and the State Police Crime Scene Services Section.