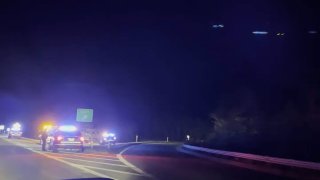 A man who was critically injured in a crash Sunday evening in Falmouth, Massachusetts, has died from his injuries, police said.
Massachusetts State Police responded to the single-vehicle crash on Route 28 northbound in the vicinity of the off ramp to Route 151 shortly after 5:30 p.m. Sunday. The victim was removed from his vehicle by the Falmouth Fire Department and taken to Falmouth Hospital, where he was pronounced dead.
The victim was identified as 67-year-old Stephen Hill of Falmouth.
According to state police, the man's car had veered off Route 28 into the wood line in Falmouth. Investigators are still working to determine why the man's Saab exited the right edge of the road, traveled through the grass infield, entered the wood line and struck several trees.
The crash remains under investigation.
It was the second fatal crash in Falmouth on Sunday. Earlier in the day, state and local police responded to the intersection of Central Avenue and Menauhant Road after a car crashed over an embankment and plunged into the ocean, killing the driver and sole occupant of the vehicle.