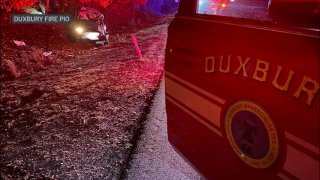 A person was hospitalized early Sunday morning following a serious crash in Duxbury, Massachusetts, in which they were thrown from their vehicle.
Firefighters responded to the rollover on Route 3 northbound, north of Exit 22, around 4:25 a.m. and found the driver had been ejected, the Duxbury Fire Department said.
The person was rushed to South Shore Hospital. The fire department did not provide any immediate word on the driver's condition or the extent of their injuries.
Drivers were asked to avoid the area following the crash, and the fire department noted that all off-duty firefighters had been recalled to support the incident.
Pictures shared by the fire department on Twitter showed the vehicle off the side of the roadway with significant front-end damage.
Officials did not say what may have caused the crash. NBC10 Boston has reached out to Massachusetts State Police for more information but has not heard back yet.