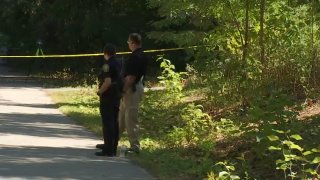 A man was found dead, apparently stabbed, next to a pond in Manchester, New Hampshire, Friday, police said.
The man has not been identified, but state prosecutors and local police said there was no threat to the public, as everyone involved had been identified.
The apparently injured man was found on the western side of Nutt Pond, according to a release from the New Hampshire Attorney General's Office and Manchester police. When officers arrived, they found the man dead of an apparent stab wound.
Earlier, Manchester police had said there was a "significant police presence" in the area of the walking trail by the pond, which is in Manchester's Precourt Park, and asked residents to avoid the area. The walking trail was closed during the investigation.
Additional details will be released as the investigation unfolds, authorities said.
A month ago, a man's body was pulled from Nutt Pond in what authorities called an untimely death investigation.