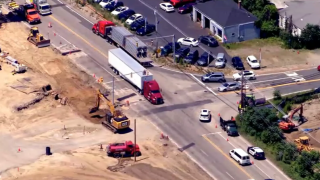 An investigation is underway after a Shrewsbury, Massachusetts police officer was struck by a car Wednesday morning.
According to the Shrewsbury Police Department, the officer was standing at the intersection of Route 20 and Lake Street working a traffic detail shortly after 9:30a.m. when a vehicle struck the officer.
Emergency crews responded to the scene and the injured officer was taken to a nearby hospital.
No word on the extent of the officer's injuries, or the car or driver involved.