A snowstorm slammed Massachusetts and New England that made travel hazardous Sunday afternoon and evening -- just in time to inconvenience anyone headed to the Super Bowl parties that health experts have advised against.
A winter storm warning was in effect for parts of Massachusetts, Rhode Island, Connecticut and Maine through early Monday morning. Expected snowfall totals in our forecast rose from where we had them in the morning -- some parts of the Boston area could get a foot of snow.
The Massachusetts Department of Transportation advised the public to use caution if traveling Sunday given the forecast of a wintry mix of snow and rain across the commonwealth throughout the day.
Snowfall was heavy at times, especially across eastern areas. Snowfall ended late Sunday evening.
Given that, MassDOT Highway Administrator Jonathan Gulliver joined us to discuss road preparations ahead of the storm, including pre-treatments in a few select areas.
Gulliver said crews started over the past 24 hours as part of a prevention effort to make sure there was no icing at the beginning of the storm.
Local
In-depth news coverage of the Greater Boston Area.
He also said they would bring crews in as needed as the storm heats up.
"It's good news and bad news on the timing," he said.
All in all, Gulliver said, they feel well prepared for this storm and that Monday morning will look pretty good on the roads.
"This storm will be a classic wintery mix for much of Massachusetts and travelers may encounter variable conditions on their trip," Gulliver said. "Motorists should reduce speeds, buckle up, and avoid traveling during these peak periods as much as possible."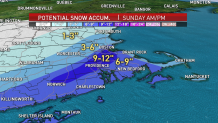 Sunday morning was quiet but snow quickly picked up in intensity around brunch time and it will continue through the afternoon, eventually tapering off between dinner and bedtime.
Our forecast showed that southeastern Massachusetts, Rhode Island and Connecticut were due for the heaviest snowfall.
The snow was actually fueled in part by weather over Tampa, which is hosting the Super Bowl Sunday night.
Several central and southern Massachusetts cities and towns issued snow emergencies ahead of the storm, though Boston was not among them.
The state's next-largest city, Worcester, did announce a parking ban beginning at 11 a.m. Sunday, with no parking allowed on either side of primary arteries, bus routes and roads downtown. Parking will be limited to just the odd numbered side of the street elsewhere, and the city's public parking garages will be open for free for the duration of the ban.
Some 5,2020 power outages were reported throughout Massachusetts, according to MEMA.
Parking bans have also been announced for Brockton, Dartmouth, Fitchburg, New Bedford and Randolph, beginning as early as 6 a.m. Sunday in New Bedford.
In Wareham, Police Lt. Walter Correia said he was confident the public safety agencies are prepared to handle the impending storm.
The lieutenant also talked specifically about the importance of people not traveling with snow on the roofs of their vehicles -- which he said a lot of people do.
"It creates a problem," he said. "We recommend everybody clean off the snow before they leave their driveway."
Correia also strongly advised that people adhere to parking ban restrictions in place, and avoid leaving any vehicles in the possible path of plow trucks.
Brockton Mayor Robert Sullivan on Saturday declared a snow emergency starting at 8 a.m. Sunday, meaning there is no parking allowed on any city streets. Several lots and garages have been identified as off-street parking alternatives.
For some, however, the game is the easily the most important event of the day, as shoppers flocked to grocery stores Saturday to get their gameday meal ingredients.
"We're not the type that run out and stock up on bred and milk. I just go out in whatever weather," said Mike Gollub, who was out picking up some last-minute items for his wife Saturday.
"We're New Englanders. Ready for the game. Ready for the storm. Bring it on," he said.
In New Hampshire, state police warned drivers of snow-covered and slippery roads, saying they were responding to crashes statewide.
State police asked drivers to slow down and drive according to the conditions, citing vehicles off the road in many locations.
Troopers were on scene of one crash on Interstate 93 southbound in Londonderry where two lanes are blocked.
But theoretically less people should be on the roads as public health officials have urged people not to gather for big Super Bowl watch parties this year because of the coronavirus pandemic.
Metrics are declining from a surge that peaked around the new year. Dr. Sabrina Assoumou said that, to keep that trend going, people must continue to follow safety measures on Super Bowl Sunday and beyond.
"The way to make sure that we're all together again and celebrating at the Super Bowl next year ... is to this year to make the sacrifice and to celebrate virtually as much as possible," she said.