The 127th Boston Marathon will take place on Monday, April 17, featuring a field of 30,000 athletes from more than 100 countries.
The historic race covers 26.2 miles from Hopkinton to Boston. The world's oldest marathon is being held two days after the emotional 10-year anniversary of the 2013 Boston Marathon bombing.
Here's everything you need to know about this year's race:
Boston Marathon start times
9:02 a.m.: Wheelchair Division – Men
9:05 a.m.: Wheelchair Division – Women
9:30 a.m.: Handcycle & Duo Participants
9:37 a.m.: Professional Men
9:47 a.m.: Professional Women
9:50 a.m.: Para Athletics Divisions
10:00 a.m.: Wave 1
10:25 a.m.: Wave 2
10:50 a.m.: Wave 3
11:15 a.m.: Wave 4
Boston Marathon course route and map
The marathon starts in Hopkinton and runs through Ashland, Framingham, Natick, Wellesley, Newton and Brookline, finishing across from the Boston Public Library and Old South Church in Boston's Copley Square in the city's Back Bay neighborhood.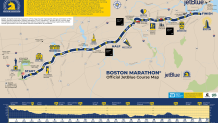 Who's running this year's Boston Marathon?
Among the elite runners participating this year are marathon world record holder and double Olympic marathon gold medalist Eliud Kipchoge, as well as reigning World Athletics Marathon champion Gotytom Gebreslase, who are both making their Boston Marathon debuts, joining six distinguished Boston Marathon champions on the starting line. Among the Boston Marathon champions set to race are reigning winner Evans Chebet of Kenya and Des Linden, the most recent American open division champion.
Behind Kipchoge and Chebet, the fastest man in the field will be Tanzanian national record holder Gabriel Geay, who finished runner-up at the Valencia Marathon last month in 2:03:00. Geay has had success racing on the roads of Boston, winning the 2018 B.A.A. 10K, placing fourth at last year's Boston Marathon, and finishing in second and third at the B.A.A. Half Marathon in 2019 and 2018, respectively
Here's a list of additional men's participants.
In the women's field, last year's second and third place finishers in Boston, Ababel Yeshaneh of Ethiopia and Mary Ngugi of Kenya, both return with hopes of claiming the top spot on the podium. Yeshaneh came within four seconds of victory, while Ngugi has placed second and third in Boston. Also back is Joyciline Jepkosgei, a past winner of the New York City and London Marathons.
Here's a list of additional women's participants.
Several celebrities and well known local personalities will also be running this year's marathon. Boston Red Sox legend David Ortiz will serve as the grand marshal.
Public safety precautions
Boston Marathon organizers announced safety plans for this year's race on Thursday morning.
Boston police said they will have uniformed and undercover officers along the marathon route, and cameras will be active along the Boston portion of the race route. Observation poins will also be set up around the finish line area in Back Bay to monitor the crowd.
Boston firefighters and emergency medical services will also be out in the field with walking patrols and enhanced medical coverage. The city's Emergency Operations Center will also be open to monitor the race.
Spectators are encouraged to leave backpacks, strollers and other large items behind. They are not banned, but may be subject to search.
"There has been intense planning for this year's marathon with our city, state and federal partners. We have a well-thought-out, comprehensive plan in place. We are ready for the marathon and to continue to keep our neighborhood residents safe throughout the city," Boston Police Commissioner Michael Cox said. "As always, we ask the public for their cooperation, they are truly our most important partner. Please work with us to ensure a family friendly safe event."
It's not lost on officials that this is the 10th anniversary of the marathon bombings, so ramped-up security should be expected across Boston.
How to get into the city
People coming into Boston for the marathon are urged not to drive their personal vehicles. Information on Bluebike rentals may be found on the Bluebikes website and public transit information can be found on the MBTA website.
For a faster return trip, the MBTA advises riders to purchase a round-trip rather than a one-way ticket. Walking is also a great way to get around the city.
Boston Marathon road closures, parking restrictions
Boston police have announced a series of road closures as a result of this year's marathon.
The closures and parking restrictions are outlined on the city's website, along with an interactive map.
NO STOPPING APRIL 5 TO APRIL 20
Blagden Street, (south side, opposite side of Library) Huntington Avenue to Exeter Street for HP parking
Boylston Street, (both sides) Exeter Street to Dartmouth Street
Boylston Street, Dartmouth Street (from Dartmouth Street to Clarendon Street)
Exeter Street, Boylston Street to Blagden Street
NO STOPPING APRIL 10 - 20
Blagden Street, Dartmouth Street to BPL Driveway
NO STOPPING APRIL 12 - 18
Exeter Street, Alley 441 to Boylston Street
NO STOPPING APRIL 13 - 17
Trinity Place, St. James Avenue to Stuart Street
NO STOPPING FRIDAY, SATURDAY, AND MONDAY - APRIL 14, 15, AND 17
Beacon Street, Charles Street to Joy Street
Boylston Street, Dalton Street to Arlington Street, unless otherwise posted
Clarendon Street, Newbury Street to Saint James Avenue
Dartmouth Street, Boylston Street to Commonwealth Avenue
Exeter Street, Newbury Street to Huntington Avenue, No Stopping Thursday to Monday, and east side from Boylston Street to Blagden Street.
NO STOPPING SATURDAY TO MONDAY - APRIL 15 - 17
Beacon Street, Bay State Road to Brookline Town Line (both sides)
Berkeley Street, Stuart Street to Newbury Street
Boylston Street, Arlington Street to Charles Street
Cambridge Street, Court Street to Sudbury Street
Charles Street, Boylston Street to Beacon Street
Saint James Avenue, Arlington Street to Clarendon Street
Stuart Street, Huntington Avenue to Arlington Street
NO STOPPING SUNDAY AND MONDAY APRIL 16 AND 17
Clarendon Street, Newbury Street to Public Alley 436
Newbury Street, for Media Vehicles from #29 Newbury Street crossing over Berkeley Street to #69 Newbury Street
NO STOPPING SATURDAY 12:01 A.M. THROUGH 3 P.M. ON APRIL 17
Newbury Street, Dartmouth Street to Exeter Street
NO STOPPING MONDAY, APRIL 17
Arlington Street, Beacon Street to Stuart Street
Arlington Street, Columbus Avenue to Isabella Street
Beacon Street, Brighton from Chestnut Hill Avenue to Brookline Town Line
Beacon Street, Back Bay from Charles Street to Arlington Street
Berkeley Street, Columbus Avenue to Commonwealth Avenue, unless otherwise posted
Belvidere Street, Huntington Avenue to Massachusetts Avenue
Blagden Street, Huntington Avenue to Exeter Street, unless otherwise posted
Boylston Street, from Massachusetts Avenue to Dalton Street
Charles Street, from Boylston Street to Beacon Street
Charles Street South, from Park Plaza to Boylston Street
Chestnut Hill Avenue, from Commonwealth Avenue to Beacon Street
Clarendon Street, from Commonwealth Avenue to Columbus Avenue, unless otherwise posted
Cleveland Circle, (Parking area adjacent to Cassidy Playground & parking area adjacent to Sutherland Road) from Beacon Street to Chestnut Hill Avenue, 24 hours
Columbus Avenue, from Arlington Street to Dartmouth Street
Commonwealth Avenue, from Charlesgate West to Deerfield Street (outbound)
Commonwealth Avenue, from Beacon Street (Kenmore Square) to 80 feet east of Hereford Street.
Commonwealth Avenue, from Lake Street to Chestnut Hill Avenue (inbound)
Congress Street, from State Street to Hanover Street
Dalton Street, from Boylston Street to Clearway Street
Dartmouth Street, from Newbury Street to Commonwealth Avenue and Saint James Avenue to Columbus Avenue
Deerfield Street, from Commonwealth Avenue to Bay State Road
East Dedham, Street from Harrison Avenue to Albany Street
Exeter Street, from Commonwealth Avenue to Newbury Street
Fairfield Street, from Boylston Street to Commonwealth Avenue
Gloucester Street, from Commonwealth Avenue to Boylston Street
Hereford Street, from Commonwealth Avenue to Boylston Street
Hanover Street, (both sides) from Congress Street to Commercial Street
Huntington Avenue, from Blagden Street to Massachusetts Avenue
Kenmore Street, from Newbury Street to Beacon Street
Nassau Street, (both sides) from Washington Street to Harrison Avenue
New Chardon Street, from Merrimac Street to Cambridge Street
Newbury Street, from Arlington Street to Brookline Avenue
Plympton Street, from Harrison Avenue to Albany Street
Providence Street, from Arlington Street to Berkeley Street
Raleigh Street, from Bay State Road to Beacon Street
State Street, (both sides) from Congress Street to Washington Street
Stanhope Street, from Berkeley Street to Clarendon Street
Scotia Street, from Dalton Street to St. Cecilia Street
St. Cecilia Street, from Belvidere Street to Boylston Street
Tremont Street, (both sides) from Cambridge Street/Beacon Street to Stuart Street
Washington Street, Both sides, from Oak Street to Nassau Street. East side (even side), from Nassau Street to Kneeland Street
Washington Street, (both sides) from Winter Street to State Street
Winter Street, (both sides) from Tremont Street to Washington Street