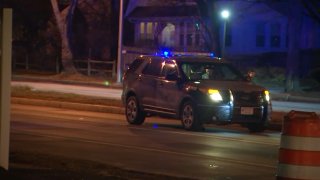 At least two vehicles were involved in a road rage incident Saturday evening in Quincy, Massachusetts, that resulted in one person being stabbed.
Massachusetts State Police say troopers responded to Quincy Shore Drive around 4:50 p.m. and found the vehicles involved had stopped and an altercation occurred near Bay State Road.
Very little information was available, but police said a woman was stabbed during the fight.
Police did not give an update on the woman's condition, or say if anyone had been arrested. It was also not immediately clear how many people or vehicles were involved, or what the road rage incident was about.
Detectives were on scene Saturday night, and an investigation is ongoing.