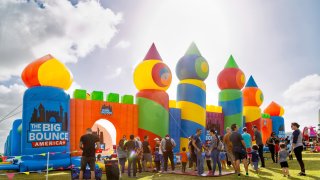 A massive inflatable castle billed as the biggest in the world is returning to the Boston area this summer, and it's bringing along three friends.
The 16,000-sq. ft. "World's Biggest Bounce House" will be open at the Topsfield Fairgrounds for two weekends in June, along with an inflatable sports arena, an inflatable obstacle course and another bounce house, according to The Big Bounce America, which brings the four massive objects around the country on tour.
When the main attraction was in the Boston area in 2019, it was just 10,000 sq. ft., but it held the Guinness world record for biggest bounce house in the world — though at least as of February, the record was officially with an attraction in Dubai.
Anyone who wants to jump around the four huge spaces on its return can buy tickets here. The event will be open Saturday and Sunday, June 17-18, and Friday-Sunday June 23-25.
Tickets are timed and grouped by age, and range from $22 to $45.
Want to know what's up for your weekend? Click here to subscribe to our free weekly newsletter about events, experiences and adventures for you and for your family around Boston. (You might even find a few freebies!)