Snow, sleet, and rain will continue for Cape Cod and the Islands. Accumulating snowfall is mainly west of the canal for now. The rest of New England stays partly to mostly cloudy East, and mostly sunny to the West.
A Winter Storm Warning has been issued for Downeast Maine, and the Mid-Coast, while a winter weather advisory was issued for Northern Maine.
There are also winter weather advisories in effect for parts of southeastern Massachusetts, as well as wind advisories in place for Barnstable and Plymouth counties.
Click here for the latest weather alerts in Massachusetts
Click here for the latest weather alerts in New England
The counties under winter storm warning are the following:
Coastal Hancock County, ME
Coastal Washington County, ME
Southern Penobscot County, ME
Southeast Aroostook County, ME
Snow becomes steadier for points East throughout Sunday evening and into the overnight. Highs Sunday are mainly around the freezing mark.
Sunday night, snow continues for Eastern Massachusetts, and Downeast Maine. Elsewhere, skies remain mostly cloudy. Lows will be in the middle and upper 20s.
Monday is a First Alert Day for eastern areas as snow continues to clip to the coastline. Snow will wind down for Massachusetts by early afternoon, but likely continues in Maine well into the evening hours.
Totals for the Cape, and Shoreline in Massachusetts are generally 1-3", with a few spots hitting 4".
For Maine widespread 2-4" totals are likely, with some areas over 6".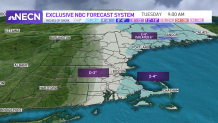 Tuesday is partly sunny, and milder.
Scattered rain showers are likely by evening for Southern New England with highs in the mid-40s. Wednesday is much warmer, and mostly sunny. Highs will be in the upper 40s, and a few 50s for Southern New England.