Lasting cold air has been hard to come by this winter season, which means snow has been even more elusive in southern New England. Both of those trends continue in our exclusive First Alert 10-day forecast.
For now, it's cool – but for January, high temperatures in the 30s are quite normal and even this normal spell of air will last only a short time, as we prepare to return to a milder-than-normal pattern. For the time-being, a Tuesday disturbance and associated weak cold front are producing variable clouds regionwide, but scattered snow showers have been limited to the mountains, where they'll tend to shrivel up during the afternoon as drier air continues to move into New England, increasing the number of sunny breaks as the day wears on.
A light northwest breeze contributes to a wind chill value hard pressed to surpass the lower 30s, setting Tuesday night up as a subfreezing night in the 20s south and teens north, even as clouds fill the sky in southern New England. Clouds will persist Wednesday in eastern New England – particularly eastern Massachusetts– where a northeast wind with cold air flows across a milder Atlantic Ocean, resulting in ocean-effect clouds and flurries through the day, while the rest of New England sees another day of variable clouds and dry conditions.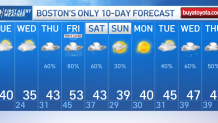 Meanwhile, the parade of storms into the West Coast has a direct impact on the weather in New England and across the country. Consider that each storm pummeling the California coast and, combined, dropping over a foot of liquid precipitation and over four feet of snow this week alone, carries a wealth of mild air and moisture from the Pacific Ocean.
How much snow will we get on Thursday?
This warmth and moisture is distributed across the Lower 48, which creates a base state of mild air for the country, interrupted only when a strong enough northerly wind behind storms can tap into cold in Canada – and that hasn't been happening often, nor is it expected to in the coming days. So, when a bundle of Pacific energy drives a storm center from the Mississippi River Valley to the East Coast late this week, our recent cold surrenders quickly after mixed snow and rain showers Thursday, with little impact for southern New England. Although, the northern half of New England likely will find snow showers Thursday coalescing into a shield of snow late Thursday through Thursday night with a widespread 3 to 6 inches of snow and up to a foot in the high terrain of the Presidentials into the Maine mountains.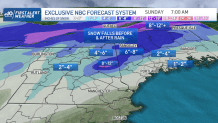 Power outages possible Friday
With a mild southwest wind quickly changing any snowflakes to raindrops south, .75" to 1" of rain will fall through Friday with southwest gusts to 50 mph causing very isolated power outages Friday morning to midday. Showers linger Saturday for many, changing back to snow showers in northern and western mountains, then drying is expected Sunday. As mentioned, with an absence of available cold, there will be no big chill behind this storm – in fact, daytime high temperatures challenge 50 degrees again by the middle of next week.