We'll see mostly cloudy skies to start Thursday. We're also expecting milder temperatures in the lower and middle 40s.
Those near the Cape and Islands are most likely to see a passing shower or flurry throughout the day on Thursday. Most other locations are dry.
Friday is mostly sunny, and very nice. Highs will be in the middle 40s.
How much will it snow in Mass. on Saturday?
On Saturday, a weaker storm system will pass to our south. There is the chance of some light snow on Saturday, but most locations see little if any accumulation. The best chance for snow will be mainly in Barnstable, Bristol and Plymouth Counties, as well as the Islands.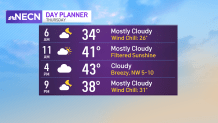 More snow possible Monday?
Sunday is mostly sunny, and milder, highs in the lower and middle 40s. On Monday, another winter storm comes into view. This one looks to start late in the day Monday as a period of rain or snow, and continues into Tuesday as well. Highs Monday will be around 40.
On Tuesday, rain or snow will taper by later in the day. Highs around 40. Wednesday, light snow is still possible, with slightly cooler highs in the upper 30's.