The bitter air is pouring in, the temperature records are teed up, the winds are increasing, and the upper atmosphere…is ready to collapse.
Wait, what?
This ISN'T akin to, "The sky is falling!", but with such intense cold at ALL levels of the atmosphere, the top of the atmosphere, what we know as the tropopause, drops due to the fact that the air molecules in this arctic air are compact and dense.
Picture the atmosphere as a loaf of bread. In the summer, there's lots of fluffy, warm air and the loaf is airy and tall. In the winter, the air is dense and the loaf is like banana bread, or, in our case with record cold, like unleavened bread. This drops the top of the tropopause many thousand feet from where it should be and actually causes ozone to intrude into our atmosphere from the stratosphere – perhaps to the level of Mt. Washington! This is an extremely rare distortion, and likely something we haven't seen in many decades.
Fret not, you won't be smelling ozone on your avocado toast Saturday morning. But you may have teary eyes and a runny nose if you decide to go outside unprotected.
In fact, it would only take 10 minutes to get a minor case of frostbite with wind chills of 25-35 below Saturday morning. Things aren't all dandy later Friday afternoon or overnight, either. Wind chills will top 10 to 15 below as we fall from our lofty heights in the 30s to the single digits.
"It's only one day." That's the response I got from a post on Twitter. Thankfully, it is. But it's still one helluva ride.
A number of school districts have closed on Friday due to the cold weather, including public schools in Worcester and Boston.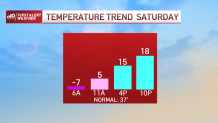 Be safe, check on our older citizens, make sure you hydrate, and keep the pets comfy too.
Then, 40s on Sunday!
Have a great weekend.