Two now-former group home employees are accused of assaulting a disabled resident in Chelmsford, Massachusetts.
Daniel Maina, 41, of Tyngsborough, and Jennifer Nganga, 60, of Lowell, were charged with assault and battery on a disabled person and abuse by a caretaker on Wednesday.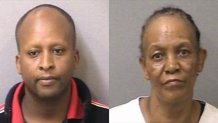 Chelmsford police said Maina and Nganga were arrested following an investigation that allegedly showed a pattern of abuse on Paul Stanizzi, 50, a non-verbal resident at a group home on Harding Street.
"The evidence gathered during the investigation showed a clear pattern of physical abuse against a victim who could not defend himself or report his abuse at the hands of the very people charged with his care and well-being," said Chelmsford Police Chief James Spinney.
The group home is operated by Northeast Residential Services, which is a state-operated group home, according to the Department of Developmental Services (DDS).
DDS responded to NBC10 Boston regarding the allegations.
Local
In-depth news coverage of the Greater Boston Area.
"DDS was deeply disturbed to learn of these horrible allegations and has a zero tolerance policy for abuse and neglect of individuals in its care," they wrote. "Additional precautionary steps have been taken including placing the employees' supervisor and other group home staff on administrative leave pending the outcome of an investigation. Nursing staff have evaluated the other residents to ensure that they are safe and healthy."
DDS added that both Maina and Nganga underwent background checks prior to being hired.
Maina and Nganga were released on personal recognizance and are due back in court on March 26.