Firefighters in a small Massachusetts town honored a good Samaritan who stopped to comfort a 4-year-old girl following a serious car crash on Monday.
Lakeville fire officials said they responded to a serious single-vehicle crash on Route 140 south shortly after 4:30 p.m. on Monday. The car had left the highway and struck several trees.
The driver was ejected from the car and sustained significant injuries, they said. A 4-year-old girl who was a passenger in the car was properly restrained in a car seat and escaped serious injury.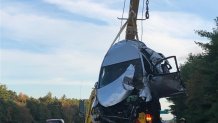 A passing motorist stopped to assist the crash victims before first responders arrived.
First responders were grateful, but they did not know who she was at first, with the fire department asking for help learning the woman's identity so firefighters could thank her.
Tuesday, they learned that Yanine Mendez was the woman who helped. Lakeville Fire Chief Mike Evans gave Mendez a bracelet from the little girl as a token of their appreciation.
The driver of the car was taken to Rhode Island Hospital in Providence, and their condition was not immediately known. The young girl was also taken to the hospital as a precaution.