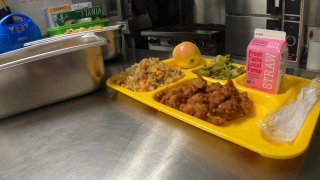 After agreeing to a $110 million one-year extension, lawmakers, advocates and families are calling for the state to make school meals free for all Massachusetts students permanently.
Supporters of the pandemic-era policy gathered in a State House hearing room Thursday morning to promote the benefits of a program that they say ensures students have the nourishment they need to learn, while taking pressure off families.
New legislation (HD 766 / SD 1013) filed by Rep. Andres Vargas and Sen. Sal DiDomenico would allow every Massachusetts student to receive free breakfast or lunch in school without providing income or other eligibility information, supporters say.
The bills call for schools to maximize access to federal funds to cover the cost of breakfast and lunch programs, and for the Department of Elementary and Secondary Education to fill the gaps for uncovered costs.
Former Gov. Charlie Baker and lawmakers agreed in July to a one-year extension of free school meals for all students to the tune of $110 million in the state budget, which campaign organizers said makes Massachusetts one of only five states continuing to offer no-cost meals to all students after the expiration of federal waivers in June.
Project Bread President Erin McAleer said there are 56,000 more children eating lunch daily in Massachusetts schools today than there were in 2019, before the federal free lunch policy began.
Copyright State House News Service