Police in Braintree, Massachusetts, raided an illegal THC edibles operation on Friday that was producing gummies resembling popular children's candy.
Acting on a tip, police said they executed a search warrant on a commercial business address on Mill Lane. Upon searching the property they found what they described as "an illegal THC edible/gummy operation."
Numerous sheets of THC gummies were found cooling on racks along with thousands of already packaged gummies in various flavors. Each package contained 10 gummies each. Similar packages are sold online for about $50 each.
Detectives estimated the street value of the THC gummies seized at well over $100,000. Also located were 17-liter bottles containing various amounts of THC oil, some of which were full. A liter of THC oil typically sells for about $2,500 to $3,000 on the commercial market.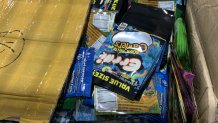 Police said the space was outfitted with commercial kitchen equipment and packing materials. There was also a high-end laser printer believed to have been used to create packaging for the edibles. It appeared that the space was being used exclusively for the manufacture and packaging of THC edibles.
The commercial space has been rented since about 2020, police said. The town has nothing on file related to business being conducted at the property. The owner of the property was not involved, investigators said.
Several people are expected to face charges including drug manufacturing and trafficking. Their names were not released by police.
Less than a week ago, a similar operation in Salem was raided where marijuana products disguised to look like Skittles and other popular children's candy were seized.
Without regulation, police say that edibles made illegally can contain much higher amounts of THC which can increase negative side effects. Unregulated oils and edibles can also contain toxic contaminants, they said.
Eric Rogers of Rogers Cannabis Consulting says situations where products are being made illegally, pose a problem to the cannabis industry in the state.
Rogers says, "It makes it difficult for established operators to really build that trust with consumers so that they can establish the traditional CPG relationship that brands in non and non-cannabis space are able to have. "
Rogers says many factors may still be driving people away from legal dispensaries and onto the black market including intimidation, fear of the unknown, not wanting to show their ID and even paying taxes on the product. In turn, causing a number of concerns for businesses following established guidelines and presenting big safety concerns for those choosing alternative options.
"When you're participating in the legal market," Rogers explains "All products are being tested by third party labs to ensure that they're not contaminated with molds or pesticides or heavy metals that can be found in the black market products. "
He believes right now, the barrier to entry for people looking to participate in the legal market remains too high and is only further fueling the black market.
"I think Massachusetts has done a great job focusing on equity in the industry to make sure that there's access to the industry for a variety of audiences and entrepreneurs." Rogers says "But leading back to sort of where we began. The barrier to entry for people to participate in the legal market continues to be too high, which will further fuel the black market. So as we see the prices start to come down in the legal market and more legitimate products and brands continue to put their products forward, that can't necessarily be easily spoofed or replicated in the black market. You'll see the legal market continue to grow and thrive and there won't be a need for the crutch that is the black market right now."