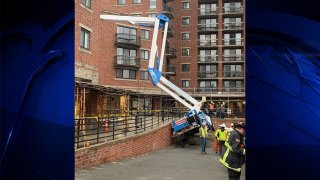 A cherry picker vehicle tilted over while working at a building in Boston's Allston neighborhood, close to Brighton, on Thursday.
The construction vehicle tilted over about 3:07 p.m., Boston police said. The operator was able to get out of the cherry picker.
The incident took place at a building on North Beacon Street near Cambridge Street.
A city building inspector was headed to the scene, according to a representative for the Inspectional Services Department.