A Massachusetts police officer who drowned trying to save a teenager at a pond was honored with a procession by his fellow officers Saturday morning.
The procession of police vehicles from across Massachusetts accompanied the body of Worcester Police Officer Enmanuel "Manny" Familia as it was taken from the UMass Memorial Medical Center in Worcester to the state medical examiner's office in Westfield.
Worcester City Manager Edward Augustus, Jr. ordered flags at all municipal buildings and parks flown at half-staff Saturday.
The 38-year-old Familia was one of five officers who entered the water at Green Hill Park, the city's largest, on Friday afternoon to try and save a drowning teenager.
Familia and the 14-year-old teen, identified by family members as Troy Love, were later located by divers and rushed to the hospital, where they were pronounced dead.
Familia was a five-year police department veteran with a wife and two children.
Local
In-depth news coverage of the Greater Boston Area.
"The Worcester Police Department has lost a brother, friend, and a partner. The city of Worcester has lost a hero," Police Chief Steven Sargent said. "We will remember and honor his selfless devotion to Worcester, and his ultimate sacrifice to save someone he didn't know."
Massachusetts Gov. Charlie Baker called the incident "the worst nightmare you could ever possibly imagine."
"Jumps into the water attempting to save somebody else, a young boy, that's about a high a calling as you can possibly imagine," the governor said.
Love, who knew how to swim, got into trouble as he tried to make his way across the water.
"I didn't know how deep that lake was," said Love's brother, 21-year-old Joseph Guy. "He was trying to swim across it."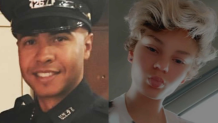 "He was OK until he got to the middle, and he was just yelling, 'Help, help, help,' like over and over," said his sister, Arieanna Potter.
Guy, along with Love's girlfriend, Kristen Breeden, tried to make the rescue.
"Me and Kristen jumped in the water to try and help him, but his body went under," said Guy. "We couldn't find him."
"That lake, it felt like in the middle, it was something that dragged you down," said Guy. "Like a swirl hole or something in the middle of it, it just dragged you down, we were not expecting it."
Love's family had just arrived in Worcester earlier the week, on vacation from Virginia.
"He was really respectful, he did everything he could as a brother," said Guy. "I loved him to death."
Love's siblings are devastated by their loss and are also grieving for the officer and his family.
"To the officer's family that died, thank you all," Guy said. "I know we spoke at the hospital, my prayers will be with him."
"I just want to say thank you, especially to his family, and I'm sorry that he died saving my brother, but he died a hero," Potter added.
Familia had also served as a campus police officer at Quinsigamond Community College and Clark University before joining the Worcester police.
Jerome Lee tells NBC10 Boston he went to high school with Familia.
"He's a very good guy, funny guy. Athletic. Smart," he recalled.
Worcester Mayor Joseph Petty praised Familia's actions Friday, saying, "This is the type of person Manny was; someone who would lay down his life for someone else's child."
Police Chief Steven Sargent said the city has lost a hero.
"We will remember and honor his selfless devotion to Worcester and his ultimate sacrifice to save someone he didn't know," he said.