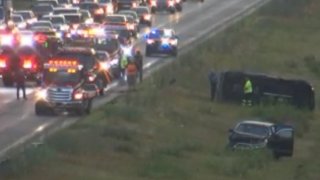 A four-car crash caused minor injuries and major traffic on I-95 Tuesday morning in Boxford, Massachusetts.
The crash occurred on the southbound side of the highway near Route 97. One of the cars rolled over onto its side in the center median. It was towed from the scene shortly before 6 a.m. Tuesday. At least two people were taken to local hospitals with minor injuries, Massachusetts State Police said.
The driver of a 2012 Honda Crosstour, a 22-year-old man from West Roxbury, was taken to Anna Jaques Hospital with minor injuries. The passenger of another car involved, a 22-year-old man from Seabrook, New Hampshire, was taken to Beverly Hospital with minor injuries. He was riding in a 2003 Chevrolet pickup that was being driven by a 56-year-old man, also from Seabrook.
The other cars involved in the crash include a 2011 Chevrolet pickup driven by 27-year-old man from Portsmouth, New Hampshire and a 2009 Toyota Rav4 driven by 54-year-old man from Wesley Chapel, Florida. Three of the four cars were towed, police said.
Traffic appeared to be squeezing by through the two right lanes for some time. One lane was also closed on the northbound side of I-95. The scene has since cleared and all lanes have reopened.
The crash remains under investigation. No further information was immediately available.