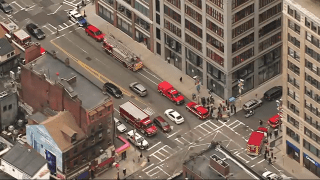 Boston firefighters responded to a Level 2 hazmat situation at the Tufts University School of Medicine on Harrison Avenue on Tuesday afternoon.
Firefighters were reportedly investigating an unknown haze on the seventh floor. The initial call came in around 4 p.m.
There are no illnesses to report, fire officials said.
The problem was caused by a fire in a walk-in refrigerator, which was sealed. Fire officials said there is no hazard.
The air quality of the building was checked and determined to be safe. The building was evacuated as a precaution.
Hazmat specialists will remain at the scene awaiting an environmental cleanup company to monitor the cleanup.
No further information was immediately available.