After a series of fights broke out at Revere Beach last weekend, there was an increased police presence at the Massachusetts beach this weekend in an attempt to dissuade any violence.
Revere police and Massachusetts State Police are working together to step up police patrols, monitoring the beaches for excessive noise and public drinking.
State police said Saturday evening that seven arrests had been made so far, including four juvenile males, two men and one woman.
According to state police, one juvenile was charged with assault and battery on a police officer and disorderly conduct; a second was charged with unlawful possession of a knife. Another was charged with affray, disorderly conduct, and resisting arrest. And a fourth juvenile was charged with disorderly conduct and resisting arrest.
A 52-year-old man was charged with domestic assault, state police said. A 61-year-old man was charged with pouring alcohol for a minor, and a 27-year-old woman was charged with operating under the influence of drugs.
In addition to adding extra personnel to the beach, state and local police are enforcing a parking ban on Revere Beach Blvd. effective at 6 p.m., along with the closure of the beach a half hour after dusk -- approximately 8:30 p.m.
Beachgoers were reminded to plan accordingly in order to avoid being towed from designated areas, and all visitors were asked to depart by the closing time, which was enforced, state police said.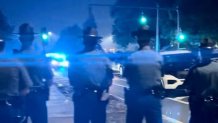 In the last few weeks, Revere Beach has seen multiple arrests stemming from altercations between beachgoers. The fights resulted in one person going to the hospital with a potentially serious injury.
Local
In-depth news coverage of the Greater Boston Area.
Law enforcement officials said the fights originated from a few hundred people gathered by the Revere Beach bandstand.
"It definitely shouldn't be happening," said Keith McConnel, a beachgoer in Revere. "You shouldn't have to fear walking down the beach."
"It's getting out of hand," said Connie Celani, a frequenter of Revere Beach. "If you rent a condo here you don't want that. You want it to be quiet, relaxing, having a cocktail, you don't want all this trouble."
Sign up for our Breaking newsletter to get the most urgent news stories in your inbox.
Outside of the beach, the City of Revere has placed signs saying "If You See Something, Say Something," and "Enjoy the Beach Responsibly."
State police have issued a warning that anyone who does cause trouble will "face the consequences."
But Revere Beach wasn't the only beach that state police made arrests at on Saturday. Troopers also responded to a large disturbance at Carson Beach in Boston.
It was not immediately clear if this was actually a brawl, but state police said they estimated there was a crowd of several thousand people over the course of the evening as they undertook enforcement, crowd control and traffic duties.
Many visitors to the Boston beach engaged in unruly behavior and disorderly conduct, state police said. Video from near beach showed a very chaotic scene involving a large group of people, as well as a massive police presence.
Five arrests were made, state police added. Two were juveniles. Charges included disorderly conduct, resisting arrest, interfering with a police officer and possession of fireworks.
Boston police said they assisted state police on scene.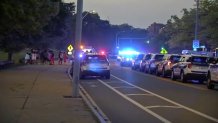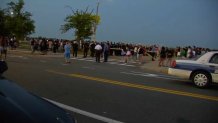 State police said additional patrols will be deployed at both Revere and Carson beaches on Sunday.
Elsewhere in New England, police made 10 arrests at Hampton Beach in New Hampshire after a large group formed around 6:20 p.m. and then moved into the middle of Ocean Boulevard, forcing traffic to be halted for approximately an hour.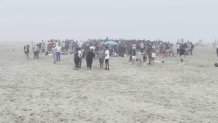 Saturday saw temperatures soar into the 90s across the region. With humidity also on the rise, temperatures felt much warmer, and we'll see even warmer temperatures on Sunday.