Massachusetts State Police are investigating a road rage incident involving a motor vehicle crash followed by a stabbing in the O'Neill Tunnel on Interstate 93 south in Boston early Monday morning.
The incident occurred shortly before 7 a.m. in the O'Neill Tunnel southbound at the Government Center exit.
A state police spokesman said the details are vague at this hour but there was a crash followed by "a stabbing or slashing," and the suspect vehicle then fled the scene. The suspect vehicle was located at South Bay Mall.
A 35-year-old Boston man was taken to an area hospital and is expected to survive and one person is in police custody, state police said. The other driver, a 56-year-old man from Avon, called police from South bay Mall and waited for officers to arrive, according to MSP.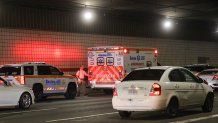 No further details were immediately available. An investigation is ongoing.