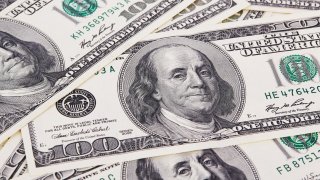 A clear majority of likely Massachusetts voters want the Legislature and Gov. Maura Healey to leave untouched the 1986 tax law that triggered nearly $3 billion in mandatory rebates last year, according to new polling results.
The poll results published Monday by the Fiscal Alliance Foundation found more than 62% of the likely voters surveyed want to keep the tax cap law known as Chapter 62F as is, compared to 16.5% who want to repeal the law and nearly 21% who are not sure.
That mandatory tax relief took top Democrats on Beacon Hill by surprise, and legislative leaders have hinted in recent months they may consider overhauling the way the tax cap functions. Broad tax cuts are also popular among likely voters, with a majority -- nearly 57% -- supporting that idea and 28.4% preferring for Healey and lawmakers to pursue targeted tax relief for specific groups.
Exactly half of voters had a favorable opinion of Healey right before she took over in the corner office, with more than a fifth still not sure how they feel about the former attorney general, according to the poll.
The poll, conducted on Jan. 3 and 4 before Healey's official inauguration on Jan. 5, surveyed 750 people with a history of voting in elections. According to the topline results, the poll involved 275 registered Democrats, 88 registered Republicans and 387 voters who were registered as independents or with another party.
The foundation sponsored the poll, which was performed by Jim Eltringham of Washington, D.C.-area Advantage Inc. and had a margin of error of plus or minus 3.6 percentage points.
Copyright State House News Service