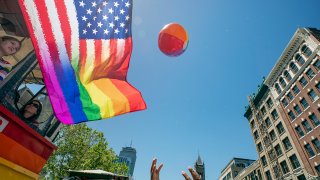 Boston will have an in-person Pride parade for the first time since 2019, Boston Pride For The People announced Thursday, as part of a reimagined celebration slated for June.
The parade and a Pride festival will be held June 10 on Boston Common and at City Hall, according to Boston Pride For The People, a new organization working with the city on the celebration. Also on tap will be block parties.
"The pandemic kept us apart for a long time. Now, all of us are eager to reconnect, embrace each other as a community, and most importantly have fun," said Adrianna Boulin, president of Boston Pride For The People, in a statement.
Mayor Michelle Wu thanked the organizers for continuing the city's history of advancing LBGTQ+ equity.
"I look forward to welcoming people from all across New England to Boston this June!" she said in a statement.
The previous organizers of Boston's pride parade, Boston Pride, shut down in 2021 amid criticism over the organization's inclusiveness.
Last year, the city held a series of Pride month events called "A Very Proud City."
More on Boston Pride celebrations