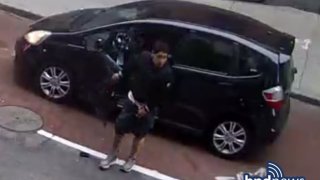 Boston police have arrested a registered sex offender suspected of raping a person downtown over the weekend.
Edwin Fantauzzi, a 33-year-old from Lawrence, was arrested Wednesday, police confirm. He faces charges of rape, assault with intent to rape and assault and battery in connection with an attack around 6:30 a.m. Saturday near Harrison Avenue. No further details about the alleged assault have been released.
Police said they were able to find Fantauzzi after someone recognized him from a photo released by investigators and called 911. He was taken into custody after a brief struggle, police said. It is believed that during his arrest he may have swallowed a small amount of an unknown white, powdery substance, and he was taken to a local hospital for treatment.
Fantauzzi is the same man who'd been sought in 2018 in the sexual assault of a child in Boston's Roxbury neighborhood, police confirmed to NBC Boston. He is a Level 3 registered sex offender, according to the Massachusetts Sex Offender Registry Board.
The investigation into the Harrison Avenue rape continues. Anyone with any information is asked to call detectives at 617-343-4400.
Sex assault resources are available at the National Sexual Violence Resources Center and the National Sexual Assault Telephone Hotline at 800-656-4673. Since it was first created in 1994, the National Sexual Assault Hotline has helped more than two million people, according to its website.