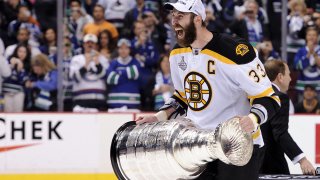 About 30,000 runners are expected to participate in Monday's 127th running of the Boston Marathon, including some well known names.
Last year, athletes like NASCAR driver Matt Kenseth, U.S. women's soccer team alums Heather O'Reilly, Leslie Osbourne and Kristine Lilly and former Vanderbilt University football kicker Sarah Fuller participated. Reality stars including Matt James of "The Bachelor," Zac Clark of "The Bachelorette" and former "Survivor" winner Ethan Zohn also ran the race.
Among those running this year are Boston Bruins legend Zdeno Chara, former Boston College and NFL quarterback Doug Flutie, ex-Boston Red Sox players Brock Holt and Ryan Dempster and Olympic gold medal tennis player Monica Rakitt (formerly Puig).
Also running are award-winning chef Daniel Humm, 1968 Boston Marathon winner Amby Burfoot and Kayleigh Williamson, who is representing "Runner 321," as part of an Adidas program to increase awareness for runners with Down syndrome or other cognitive disabilities.
Chara is running for the Thomas E. Smith Foundation and the Hoyt Foundation. Renowned Boston Marathon runner Dick Hoyt, who died in September 2021 at age 80, became an icon of the race for pushing his son in his wheelchair the 26.2 miles dozens of times. Chara's bib number will be 3333 in honor of the 33 he wore while playing for the Bruins.
He shared on social media last month that the Hoyts helped motivate the Bruins to their 2011 Stanley Cup Championship -- in addition to impacting millions of people worldwide.
Flutie, a Natick High School graduate, is running to support The Flutie Foundation, his nonprofit that supports families affected by autism.
Holt is running for the Dana-Farber Cancer Institute and Dempster for the Lingzi Foundation, honoring Lingzi Lu, who was killed in the 2013 Boston Marathon bombing. Holt will wear bib number 1212 and Dempster 4646, since their numbers with the Red Sox were 12 and 46, respectively.
Rakitt is retired from professional tennis, but has said she is planning to run all six of the world's major marathons.
She'll be wearing bib number 2016 in the Boston Marathon, representing the year she won gold in the Olympics.