Police have been searching since last week for Ana Walshe, the 39-year-old mother of three from Cohasset, Massachusetts.
She was reported missing on Jan. 4 by her employer in Washington, D.C., after her husband called to say he hadn't heard from her.
Her husband, 46-year-old Brian Walshe, who is on house arrest for a federal fraud case involving the sale of fake Andy Warhol paintings, was arraigned Monday morning on a charge that he misled investigators and ordered held on $500,000 cash bail.
Here's a timeline of the events leading up to Ana Walshe's disappearance and everything that has happened since:
Sunday, Jan 1: The last day Ana Walshe was reportedly seen
Prosecutors said in court Monday that Brian Walshe told them he last saw his wife between 4 and 6 a.m. on New Year's Day, at which time he said she left the house to travel to Washington, D.C., where she works for a real estate firm.
Brian Walshe said his wife left around 6 a.m., taking an Uber or Lyft to go to the airport, where she was scheduled to fly to D.C.
According to court documents, he told police he and his wife had dinner with a friend at their home on New Year's Eve. The friend stayed from about 8:30 p.m. until around 1 or 1:30 a.m. on New Year's Day. That night, Brian Walshe said his wife told him she had a work emergency and had to fly back to D.C. in the morning.
That morning, he said his wife got ready, kissed him goodbye and told him to go back to sleep before leaving. He told police he woke up around 7 a.m. and made breakfast for the couple's three boys, ages 2, 4, and 6, and left ro run errands around 3 p.m. after a babysitter arrived at the house. He said he left again around 4 p.m. to see his mother, who lives in Swampscott. He said he got lost along the way, so the trip took him about 20 to 30 minutes longer than usual.
Within 15 minutes of arriving at his mother's condominium, he said he left to run errands for his mother at Whole Foods and CVS in Swampscott to get groceries and cleaning wipes. He said he went back to his mother's house and returned home to Cohasset around 8 p.m.
But police said they weren't able to find any surveillance footage from his Whole Foods and CVS visits. He also said he purchased items there, but no receipts were found.
Investigators said they later determined that Ana Walshe had a plane ticket for Jan. 3 which she never used. She also never showed up at the airport or her job or the apartment she and her husband own in D.C. It was also determined that no Uber or Lyft picked her up on Jan. 1.
During the course of their investigation, police also said Ana Walshe's cell phone pinged in the area of their home on Cushing Highway in Cohasset on both Jan. 1 and Jan. 2 -- after her husband said she had already left.
Monday, Jan. 2: Husband allegedly purchases $450 in cleaning supplies at Home Depot
On Jan. 2, again as part of the conditions of his home confinement, Brian Walshe reported that he took his son to get a chocolate shake at Press Juice Bar in Norwell.
But surveillance footage showed on that day, sometime after 4 p.m., he went to Home Depot in Rockland, where he purchased $450 in cleaning supplies, including mops, buckets, tarps, Tyveks, drop cloths and verious kinds of tape. He was seen wearing a black surgical mask, blue surgical gloves and made a cash purchase. This trip was allegedly in violation of his probation conditions.
Data from his cell phone also showed that it traveled to the areas of Brockton and Abington during the week beginning Jan. 1. No further details on those trips were included in court documents.
Wednesday, Jan. 4: Ana Walshe first reported missing
Cohasset police and Washington, D.C., police said they were first notified that Ana Walshe was missing on Jan. 4 by her employees in Washington, D.C., who said she had not shown up for work that day.
Brian Walshe's lawyer said in court Monday that her client is the one who called his wife's employer to tell them he hadn't heard from her, which led them to call police.
"That was a result of Brian Walshe contacting her employer to say 'I haven't heard from my wife.'"
Cohasset police arrived at the home around 6:30 p.m., where they interviewed Brian Walshe multiple times.
Friday, Jan. 6: Cohasset police announce missing person search, former Walshe home catches fire
Around 2 p.m. on Jan. 6, Cohasset police issued a press release seeking the public's assistance in locating Ana Walshe. A massive search including K-9 officers, search and rescue teams, state police and local police began that morning and continued throughout the day.
While police searched for Ana Walshe on Friday, there was a fire at a home in Cohasset the and her husband owned until last year. The home was sold in March. State police and local investigators determined the cause of the fire was accidental. The current occupants escaped safely.
Saturday, Jan. 7: Air, ground search continues near Walshe home
The search for Ana Walshe resumed on Jan. 7. A specialized state police unit trained in search and rescue operations, three K-9 teams and the State Police Air Wing searched wooded areas near the Walshes' home Saturday. State police divers searched a small stream and a pool but didn't find anything. The Metropolitan Law Enforcement Council also helped with the search.
Later in the day, state and Cohasset police said their ground search for Ana Walshe had concluded.
Sunday, Jan. 8: Search warrant executed, husband arrested
Investigators executed a search warrant at the Walshe home on Cushing Highway in Cohasset on Jan. 8, where they said they found blood in the basement and a damaged knife which also contained blood.
Later that day, state and Cohasset police said they took Brian Walshe into custody after concluding they had "probable cause" to believe he had misled investigators into the search for his missing wife.
Monday, Jan. 9: Brian Walshe arraigned
Brian Walshe was arraigned Monday morning in Quincy District Court on a charge of intimidation of a witness for misleading police between Jan. 5 and Jan. 7 during the course of their investigation into his missing wife.
Prosecutors said various statements he made caused a delay in the investigation, which they said would have allowed him "to either clean up evidence or dispose of evidence."
At the conclusion of the hearing, the judge ordered him held on $500,000 cash bail.
His lawyer, however, argued that Brian Walshe has been "incredibly cooperative" with the investigation, consenting to searches and giving interviews. She also argued against the hefty bail amount, saying he is on a bracelet and isn't going anywhere.
Later in the day, investigators removed dumpsters from outside of the Swampscott apartment complex where Walshe's mother lives. Police taped off the area with crime scene tape and hauled the dumpsters away from the scene as possible evidence in the case, the NBC10 Investigators learned.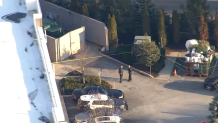 A representative for the Essex County District Attorney's Office could not comment on whether the search in Swampscott was related to the Walshe investigation; a representative for the Norfolk County District Attorney didn't have a comment on the search in Swampscott. NBC10 Boston has reached out to state and local police.
The Associated Press contributed to this report.
More on Ana Walshe's disappearance