All eyes on the brief bitter cold this weekend. Until then, light winds and temperatures well into the 40s put most New England communities about 10 degrees warmer than normal Monday afternoon with moderate air quality as some pollution hangs in the air, owing to the light wind.
We are hitting a couple of noteworthy milestones on Monday: the immune system gets a bit of a break with our Wellness Weathercast showing a moderate cold and flu index for the first time in months, after being high, very high or severe since the fall; plus, we hit a milestone for sunrises, with Boston seeing our first pre-7 a.m. sunrise Monday since Dec. 7, and just under 10 hours of total daylight.
A cold front crossing New England overnight Monday night will deliver mixed showers of rain and snow from northwest to southeast Monday afternoon through night, respectively, ending as Tuesday morning snow showers in southeast New England and dropping a coating to 1 inch in northern New England, with a spotty coating in southern New England and little meaningful impact to most major roadways.
The early departure of any lingering snow showers Tuesday gives way to emerging sun, but a colder air with high temperatures closer to where they should be in January, running in the middle 30s. A storm nearby Wednesday has been watched by our First Alert Team ever since the chance first appeared on the 10-day forecast, but it looks like that storm stays flat, quick and south of New England at midweek, meaning we stay dry and bright.
Two cold fronts are forecast to cross New England at the end of this week – one during the day Friday and the other overnight Friday night. These cold fronts may deliver some snow showers and heavier squalls to northern New England Friday, but, moreover, open the door to the true winter cold that begins the week parked across Canada and the Northern Plains to Upper Midwest of the U.S.
This new air might not be incredibly noteworthy in a normal winter, but this year, highs in the single digits north and teens south, lows either side of zero and a subzero wind chill most of the day Saturday is a bigger deal than it might normally be and will have an impact on the body, not hardened to winter cold – as a result, our team has posted a First Alert for Saturday.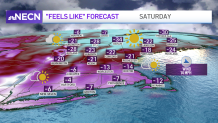 The cold will recede very quickly heading into the start of next week, and that transition may be marked with some snow Sunday night before returning to around 40 degrees next week, at the end of our exclusive First Alert 10-day forecast.