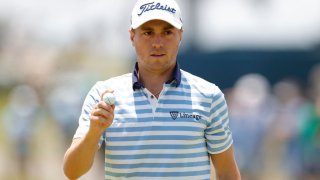 Day Five of the Tokyo Olympic games started with another stunner. Reigning Olympic gymnastics champion Simone Biles, who withdrew from the team final on Tuesday, will not compete in the women's individual all-around final on Thursday, USA Gymnastics announced.
Jade Carey, who put up the ninth-highest score in qualifications, will take her place in the all-around events. Biles could still compete in next week's individual finals, and will continue to be evaluated daily, according to the team.
"After further medical evaluation, Simone Biles has withdrawn from the final individual all-around competition. We wholeheartedly support Simone's decision and applaud her bravery in prioritizing her well-being. Her courage shows, yet again, why she is a role model for so many," USA Gymnastics said in a statement on Wednesday.

Here's more on that, and what else is going on:
Suni Lee, Jade Carey compete in women's gymnastics individual all-around final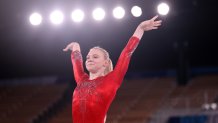 Simone Biles only completed one vault before exiting Tuesday's team gymnastics final, where the team earned silver. USA Gymnastics later announced that Biles will miss the individual all-around final, scheduled for Thursday at 6:50 a.m. ET, to focus on her mental health. Biles is the defending gold medalist in the event and compiled the highest all-around score in qualifying.
Team USA's Jade Carey, who recorded the ninth-highest all-around score in qualifying, will replace Biles in the event. Learn all about Jade Carey here.
Outpouring of Support for Simone Biles
American Suni Lee, who finished with the third-best all-around score in qualifying, will be in the medal mix. Brazil's Rebeca Andrade and a pair of gold medal winners from the Russian Olympic Committee in Angelina Melnikova and Vladislava Urazova will be in contention, as well.
Watch live on Peacock. You can also stream full coverage here.
U.S. Women's rugby team, with New England ties, defeat China
An almost completely new squad, the women of Team USA rugby hope to improve on their fifth place finish from the Olympic Games in Rio.
In their first match against China, the Americans dominated the second half, walking away with a 28-14 win.
Of the team of 12, four players have ties to New England; Ilona Maher, a native of Burlington, Vermont, Kristi Kirshe, of Franklin, Cheta Emba, a Harvard graduate, and Ariana Ramsey of Dartmouth College.
Cheta Emba, a Virginia native, played both rugby and soccer at Harvard University. In Tokyo, she will compete in women's rugby, marking her Olympic debut.
Kristi Kirshe grew up in Franklin, Massachusetts, and graduated from Williams College. A soccer player in high school, she picked up rugby during college and will compete for Team USA in the Tokyo Olympics. In a video with fellow Olympian Ilona Maher, Kirshe said, "I only eat peanut butter and banana sandwiches on game day."
Ilona Maher was born and raised in Burlington, Vermont, where she played field hockey, basketball and softball in high school. At Norwich University in her home state, then at Quinnipiac University in Connecticut, she came to love rugby. She will compete in it at the Tokyo Olympics.
Ariana Ramsey, a Philadelphia native, is attending Dartmouth College, where she plays for the rugby team. A year before she's expected to graduate, she is making her Olympic debut, competing for Team USA in women's rugby in Tokyo.
Meet Local Olympic Athletes
Austria's Sepp Straka leads men's golf tournament after Round 1
Round 1 of the men's golf tournament is in the books. After being delayed earlier Thursday morning due to lightning, the round ended out with none of the four Americans competing inside the top 10.
Austria's Sepp Straka, who came into the Olympics ranked No. 40 out of the 60 competitors, holds the lead with a score of 63, good for 8-under par. He scored four birdies on both the front and back nine and did not shoot worse than par on any other hole.
Out of the Americans, Xander Schauffele and Patrick Reed had the best rounds, both shooting 3-under par. After a bogeyless first nine, Schauffele coughed up two bogeys on the back nine, one coming on the final hole of the round, to push his score to a 68. He currently sits tied for 12th.
Collin Morikawa, fresh off a win in The Open Championship earlier this month, finished the first 18 holes of the tournament 2-under. He played par golf for 14 of the 18 holes, with three birdies and a bogey and is tied for 20th.
Speaking of par golf, Justin Thomas came out even in a first round where he did not score anything besides par on every hole. He sits tied for 41st.
The full schedule for the rest of the tournament is available here. The U.S. men are trying to take gold for the first time in over a century.
More on the Tokyo Olympics
Team USA faces Turkey in women's volleyball
The U.S. women's volleyball team will look to keep rolling in Pool B play when it takes on Turkey at 8:45 a.m. ET on Thursday.
The Americans have yet to concede a set so far in Tokyo, winning their opening match against Argentina and second match against China in straight sets. The second victory was particularly impressive with China entering the tournament as the defending Olympic gold medalists.
The squad has been led by two players who share a first name. Jordan Thompson has been unstoppable so far, scoring 54 points across the two wins. Jordyn Poulter has taken control as a distributor, collecting 88 assists.
The U.S. is aiming to make its fourth straight Olympic podium and claim its first ever Olympic gold in the event.
Watch on USA Network, or click here to stream live.
Caeleb Dressel wins first individual Olympic medal
American Caeleb Dressel won gold in the men's 100m freestyle event, setting an Olympic record in the process.
Dressel, who now has four Olympic gold medals, was followed by Kyle Chalmers of Australia, who won the silver, and Kliment Kolesnikov of Russia.
An emotional Dressel cried during the post-race interview: "I don't know if it's set in yet. Right now, I'm just kind of hurting. It's a really tough year, it's really hard, so to have the results show up, it really came together, so I'm happy."
Fellow American swimmer Bobby Finke took home a gold medal with an amazing late surge in the first-ever Olympic men's 800m freestyle final.
Finke, competing in his first Olympics, was fourth at 750 meters and passed Italy's Gregorio Paltrinieri, who had held the lead through most of the race.
"I just really wanted to get my hand on the wall," Finke said. "I'm just so happy I was able to switch into another gear."
Paltrinieri came in second place to win the silver medal, and Ukraine's Mykhailo Romanchuk finished in third for a bronze medal.
The U.S. women's 4x200m relay team won the silver medal. China came in first for the gold medal and Australia finished behind the U.S. for the bronze medal.
In the women's 200m butterfly, American Regan Smith won silver, and her teammate, Hali Flickinger, took bronze. Zhang Yufei captured gold for China.