Heavy rain will fill back in Sunday afternoon as another and larger wave of rain moves in. We remain soggy Sunday even with some breaks in the heavy rainfall.
Areas of fog, drizzle and sprinkles will be intermittent across the Northeast as highs are stuck in the low 50s with an onshore wind. Then another push of heavy rain moves in from a developing coastal low. The low tracks right across New England Sunday night.
Click here to see all the weather alerts in New England.
This pulls in some wind and heavy rain throughout the region for several hours. Wind gusts will be 30-40 mph overall at the coast, 20-30 mph inland from the southeast and east, then northeast late Sunday night.
Some embedded thunderstorms may also show up, with lightning, heavier rain and gusty winds with some small hail. If we see a good storm, this could help mix down some higher wind speeds around 50 mph.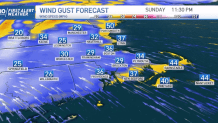 The wind swaps direction by sunrise Monday, and it's from the southwest 20-30 mph. This is when the low heads north into Canada and when we see a dry slot of air. Rain exits from south to north across New England before sunrise. This means a different forecast for our first day of May!
Local
In-depth news coverage of the Greater Boston Area.
The milder southwest breeze transports milder air and so temps will be in the 60s all over, even in Boston and eastern coastlines. South coasts remain cooler. Sunshine breaks out during the day too, so this is the best day of the work week forecast.
An upper level, cutoff low stalls near New England for Tuesday through Friday. Just like last week, we have off and on clouds, showers, and cool temps each day with highs in the 50s. By Thursday and Friday, the shower chance lowers a bit. Then finally our pattern shifts!
Next weekend we expect drier weather, sunshine and milder temps gradually. 50s to 60s for Saturday, 60s on Sunday, then perhaps some 60s to 70s for next week as warm air slowly builds.