We're still basking in the mild air Wednesday. Tuesday's high of 50 degrees in Boston was enough to banish most of the snow we had on the ground, with the mild overnight temperatures polishing the rest of it off. Highs on Wednesday will be limited by the clouds, but we're still seeing temperatures in the upper 40s, if not 50 degrees again in some spots.
We'll clear out Wednesday night just enough to allow the temperatures to fall back near freezing. This little batch of cold air will set the stage for a rain/snow setup as the next storm rolls in Thursday afternoon. Highs struggle to stay in the 40s Thursday, but we're thinking many spots will be starting as liquid precipitation across central and eastern Massachusetts. Along and north of the New Hampshire border, the battle line will be drawn. It's here that we'll see a mix of rain, snow and some ice. This will limit any accumulation (and keep it in those areas) to no more than a couple of inches. Farther north toward Manchester, New Hampshire, we could see more snow than mix.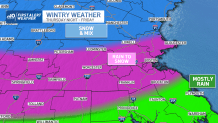 Colder air coming in with the second part of our storm system will be moving in by Friday morning, changing most areas over to wet snow. South of Boston, the changeover is less certain and we could mix with rain at times. There isn't much lift and energy left in the storm by then, so snow accumulations will be light and pacing will be gentle. We expect between 1 to 3 inches in most spots, closer to 1 inch along the coast, and not much more than a coating on the immediate South Shore. Colder air will refreeze any standing water or slush late Friday night as the storm pulls away.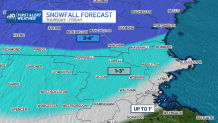 Cool air remains for the weekend, but we get a breather before the next storm rolls in late Sunday and Monday…with another rain/snow setup in New England.