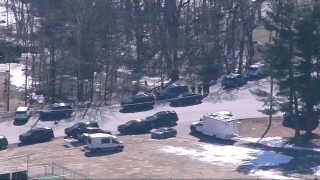 A driver who led police on a chase was taken into custody after a standoff with officers near a school in Ashburnham, Massachusetts State Police said.
The driver, who was suspected of assaulting an officer with his vehicle in Winchendon earlier Thursday, had refused to get out of the vehicle, police said.
Crisis negotiators and a SWAT team were on the scene, according to state police, and he was taken into custody about 11 a.m.
Ashburnham police had said the situation was contained and there was no threat to the public. They urged the public to avoid the area of "an ongoing situation in the area of Willard and Central" streets.
The situation played out near Cushing Academy, which was on lockdown, police said. The school said the police activity didn't impact the them and that police have told them they are safe.
Aerial footage showed a large police presence in the area.
This developing news story will be updated when more information is available.