Firefighters are battling a large blaze in a multi-family dwelling in Lynn, Massachusetts, on Thursday afternoon.
The fire was reported around noon in a building on Sachem Street in Lynn's Sagamore Hill neighborhood. Aerial footage showed heavy flames and black smoke shooting from the roof.
The Lynn Fire Department said the fire was on the third floor of the building, extending up and through the roof.
"We were alerted by a central station alarm," Lynn Fire Chief Dan Sullivan told NBC10 Boston. "The guys got on scene, they had fire up on the third floor. All the residents were out of the building when they got here."
He said about 10 people live in the building, and three were in the building when the fire started.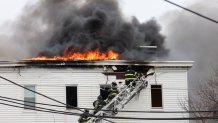 A photo shared by the department on Facebook showed multiple fire vehicles at the scene and heavy smoke coming from the roof.
No one was injured in the fire.
"We were fortunate not to have any injuries, any firefighter injuries, and all the occupants got out safely," Sullivan said.
He said the building did have working smoke detectors.
As of 2:30 p.m., firefighters were still working to douse the flames.
One resident of the building said he has only been in the U.S. for six months and luckily was able to grab his passport before getting out of the building. Another resident found out about the fire while at work.
No one will be allowed back into the building on Thursday, Sullivan said. The American Red Cross is working with residents to help them find a temporary place to stay.
"We'll have our investigators go through and see if we can find out what happened and we'll get our building and inspectional services to go through," the fire chief said.