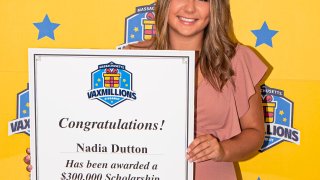 The fourth round of winners for the Massachusetts VaxMillions Giveaway were announced Thursday morning, and this is also your last chance to register for the final drawing.
The winner of this week's $1 million prize is Lilly Guttenplan of Lowell, an elementary ESL teacher and a mother of two. She and her husband said they plan to put the winnings towards their daughters' college education.
The winner of this week's $300,000 college scholarship is Nadia Dutton of Rockland. Nadia is entering her sophomore year at Rockland High School this fall where she is a three sport athlete on the girls volleyball, basketball and lacrosse teams. She wants to pursue a career in nursing and would one day like to be a Certified Registered Nurse Anesthetist. She said she is hoping to attend a four year college in the New England area and is very interested in Salve Regina University as this is where her mom attained her nursing degree.
Officials said over 2.5 million people have signed up for VaxMillions. That includes 2.3 million residents 18 and older and over 166,000 residents between the ages of 12 and 17.
As part of the giveaway, fully vaccinated residents ages 18 and older are eligible to win one of five $1 million cash prices. Residents between the ages of 12 and 17 who are fully vaccinated can enter to win one of five $300,000 scholarship grants.
Here is a list of the winners from the first three drawings:
Drawing 1: $1M prize Darrell Washington, of Weymouth; $300,000 scholarship Daniela Maldonado, of Chelsea
Drawing 2: $1M prize Donna McNulty, of Billerica; $300,000 scholarship Dylan Barron, of Norwood
Drawing 3: $1M prize Leo Costinos, of Attleboro; $300,000 scholarship Lilla Eliet, of Reading
Hoping to be the next winner? Thursday is the registration deadline for the fifth and final VaxMillions giveaway. Winners will be drawn on Monday and announced on Aug. 26.
To enter, go to VaxMillionsGiveaway.com. Anyone who doesn't have internet access or who needs assistance can call 211.
More VaxMillions Stories