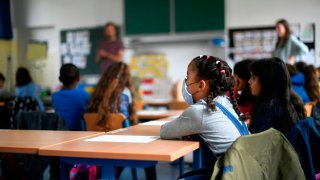 Throughout the coronavirus crisis, NBC10 Boston has offered a weekly small business webinar series to answer questions from small business owners and employees affected by the pandemic.
Now, as elementary schools, high schools and colleges across the region are preparing to reopen this fall, we're pivoting our weekly webinar series toward education, hoping to answer some the questions that parents, teachers and students are all grappling with right now.
"Class During COVID,: Your Questions Answered," hosted by Brian Shactman, will be live on NBC10 Boston's Facebook page on Tuesdays at 2 p.m. You'll also be able to find past editions of the school series and our small business webinars "on demand" right here on our website.
You can submit your questions live on Facebook or by emailing us ahead of time at web@necn.com with "Class During COVID" in the subject line.
Oct. 27: Worcester Polytechnic Institute President Laurie Leshin.
Oct. 20: Jon Carson, CEO and founder of the College Guidance Network
Local
In-depth news coverage of the Greater Boston Area.
Oct. 13: Shrewsbury School Superintendent Joseph Sawyer
Oct. 6: Natasha Ushomirsky and Mariel Novas from the Massachusetts Education Equity Partnership
Sept. 15: Jane Swift, former Massachusetts governor and president and executive director of LearnLaunch in Boston
Sept. 8: Russell Johnston, associate commissioner of special education at the Massachusetts Department of Elementary and Secondary Education
Sept. 1: Patrick Tutwiler, Lynn superintendent of schools
Aug. 25: Tom Scott, executive director of the Massachusetts Association of School Superintendents
Aug. 18: Laurie Leshin, president of Worcester Polytechnic Institute
Aug. 11: Ned Parsons, head of school at The Rivers School
Aug. 4: Lasell University President Michael Alexander
July 28: Restaurants and the Struggle to Survive
July 21: Movie Theaters
July 14: The Brewery Business
June 30: How Gyms Are Reopening
June 23: The Impact of COVID-19 on the Wedding Industry
June 16: Tourism & Hospitality
June 9: Restaurant Reopening
June 2: Reopening Cape Cod
May 26: Small Business and COVID Crisis Loans
May 19: Reopening Retail in Massachusetts
May 12: Nonprofits
May 5: Restaurants -- The Future of the Industry
April 28: Stimulus Money 1: How Do I Get It?
April 21: Small Business Live