About a month ago I wrote about what it would take to make up our snow deficit in the Boston area this winter. At the time, there was still plenty of winter left, and the prospect of large scale snowstorm was still very possible.
Now, in the middle of February, we see more factors working against us than with us to make up for the lack of snow.
First, the sun angle is getting higher! That means more solar radiation is making it to the ground each day. As a result, our average temperature is on the rise.
Second, our winter pattern has been terrible for snow lovers. La Niña continues to dominate the overall pattern; as a result, storms track to our west, allowing warmer air to provide us with rain and not snow.
Finally, the wild swings we've seen in temperature don't allow for cold air to stick around long. Swinging from a record -10 degrees below 0 just over a week ago to a likely record of 62 this Thursday doesn't allow for any stability in the forecast.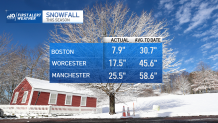 So the big question: can March save this abysmal snow season? The answer is still yes, but it'll take nearly historic snowfall to do it.
Looking back at March snowfall throughout history, we've had three instances of large-scale snow storms with a foot or more of accumulation:
March 4,, 1891: 12 inches of snow
March 13, 1993: 12.3 inches
March 19, 1956: 13.2 inches
We also can't forget about April. The April Fools Day Blizzard of 1997 would make our season whole in a hurry. That year, 25.4 inches of snow fell in Boston on April 1, and Worcester saw a whopping 33 inches!
Snow fans, there is hope! However, with each passing day our odds become less likely.