It's a split forecast this weekend with wind and rain Saturday afternoon turning milder and drier Sunday.
Temperatures this Saturday stay in the 60s, showers move steadily northward spreading from the south coast this morning to northern Maine this afternoon/evening.
While the start of it is light, heavier rain may come in at times this afternoon/evening and another round overnight. While the wind gusts up to 40 mph out in the Cape and the Islands, inland will see wind gusting near 25 mph. Rainfall amounts may add up from an inch to 3 inches in parts of the south and central Massachusetts.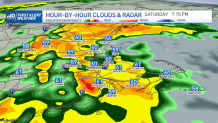 Localized amounts may wind up with over 3 inches leading to potential localized flooding in poor drainage areas.
With the cold front pushing in tonight, drier air will fill in right after, allowing clearing skies for Sunday and rising temperatures to the 70s.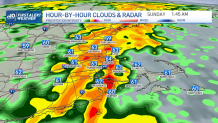 While the start of next week brings a high pressure system located in Canada, our winds will shift out of the NE which will allow for Boston and the coast to stay in the low 60s early in the week.
Wednesday may bring a slight climb up to the 70s but inland may see up to 80°. With n o big storms in hand, the chance of rain will remain low into our Memorial Day weekend.