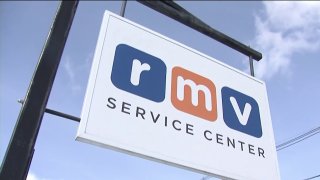 Two people have pleaded guilty to charges tied to separate schemes to give permits and driver's licenses to people who did not actually pass the appropriate tests at the Brockton RMV, according to the US Attorney's Office.
Mia Cox-Johnson, 43, a former manager of the RMV service center in Brockton, was accused of taking money to give customers passing scores on both the passenger vehicle driver's license and Commerical Driver's License (CDL) tests. According to prosecutors, between December 2018 and October 2019, Cox-Johnson conspired to pass the customers in exchange for payment. The customers were told to request a paper version of the test, rather than taking it on an RMV computer.
The prosecutors highlighted two separate incidents - one, on Dec. 28, 2018, when Cox-Johnson allegedly accepted $1,000 in cash to pass someone taking a learner's permit test who had previously failed it six times. In a second incident on Oct. 21, 2019, Cox-Johnson was accused of accepting $200 to pass a customer taking three tests for a CDL license, despite the fact that the driver failed one of those tests.
Cox-Johnson was charged and pleaded guilty to two counts of extortion under color of official right and one count of conspiring to commit extortion.
A second person, Estevao Semedo, 61, who owned a driving school, was accused of paying off a road test examiner at the Brockton RMV Service Center to pass certain applicants. Some of these applicants never even took the test, prosecutors said. Semedo was charged and pleaded guilty to one count of conspiracy to commit honest services mail fraud - so charged because the RMV later mailed driver's licenses to the unqualified drivers.
The charges come after a scandal at the Massachusetts RMV came to light last year. A state investigation revealed hundreds of drivers were granted licenses without having to take a road test at the Brockton Service Center.
Transportation officials said approximately 2,100 drivers were given licenses without taking a road test starting in April of 2018. They said a supervisor noticed suspicious activity in 2020. Two road test examiners and two service center employees lost their jobs over the situation. Their names were not released.
Multiple drivers who were contacted about their licenses when the scandal erupted told NBC10 Boston they didn't know why they were being considered unqualified, and said they had passed the appropriate testing.
Plea hearings for Cox-Johnson and Semedo have yet to be scheduled.