A car hit a house and crashed into an attached barn at a mobile petting zoo location in Derry, New Hampshire Tuesday evening.
Police say the crash happened at 21 Kendall Pond Road around 9:46 p.m.
An Audi sedan had left the road, struck an embankment, wooden fence, and became airborne before striking the side of the house and landing in the barn.
The driver of the car was able to get out of the car before arrival of fire crews. He was evaluated and transported to Parkland Medical Center with non life-threatening injuries.
The owners of the residence run a mobile petting zoo at the location, but luckily the car struck the section of the house used for storage of supplies and equipment.
There were no injuries to the residents or any animals.
A husband and wife were home at the time of the crash, and stated that it felt like a "freight train" had just gone through their yard.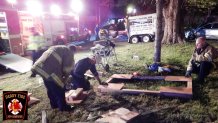 The damage left one corner of an enclosed porch unsupported, and a corner support post of the barn was destroyed leaving that corner of the barn unsupported. There was also significant damage to non-load bearing walls of both the porch and the barn.
Local
In-depth news coverage of the Greater Boston Area.
Crews constructed a door shore for the porch, a T-shore for the barn and laced them together.
The accident is under investigation by the Derry Police Department.