A brush fire was burning over more than 100 acres in Lynn, Massachusetts, on Monday, sending smoke into the sky.
The 135-acre fire appeared to be in the same area of the Lynn Woods Reservation as another brush fire that started Friday near Route 1, and a state fire official confirmed that Monday's flames had broken out of containment after firefighting Friday into Saturday.
Aerial footage showed that the new conflagration was several hundred feet from the old one.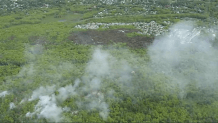 On Monday, Lynn banned people from going on the trails north of the city's Walden Pond, closing them "until further notice." That pond is different from the Walden Pond in Concord made famous by Henry David Thoreau.
A state police helicopter dropped water over the flames Monday afternoon.
"Those will smolder for probably the next few days," Lynn Fire Chief Dan Sullivan said.
He noted that the it was too soon to say what caused the fire.
People who live in the area said they were anxiously checking to ensure the fire didn't come close to their homes — Friday's fire was close to a neighborhood.
"Just keep checking the backyard, make sure it's not coming closer," Julia Steriti said.
There were no injuries in Friday's fire, which continued burning overnight. The Massachusetts Department of Conservation and Recreation had said Friday it was aware of the incident in the Lynn Woods Reservation.