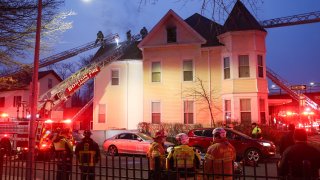 Firefighters responded to a pair of fires in Boston's Dorchester neighborhood Thursday morning that left several people displaced.
Authorities responded the first blaze, at a triple-decker home on Sudan Street, at around 3 a.m. The fire was located in the back of the building and extended to all three floors, Boston Fire Chief John "Jack" Dempsey said.
IMAGES: Firefighters Battle Blaze in Dorchester
Four adults self-evacuated after the smoke detectors went off. No one was hurt and the flames have since been doused, according to the Boston Fire Department.
Hours later, firefighters responded to a blaze at 252 Adams Street. The fire was knocked down before 7 a.m. Firefighters remained on the scene as of 7:30 a.m.
No further information about the second fire was immediately available.
This is a developing story and will be updated with further developments.