Severe thunderstorms swept through New England Tuesday night, prompting warnings and causing damage across the region.
Isolated strong to severe thunderstorms struck into the evening. The highest chance of damage came from 4-9 p.m., and reports of damage were coming in Tuesday night.
Kirsten Sims says the storm moved in quickly in her neighborhood in Cambridge, Massachusetts.
"Came out front to kind of take the plants in and make sure they were OK, saw this, trees down, wires down, a little bit of a fire," she said outside her Newton Street home.
In moments, a giant tree had fallen on her street and there were wires on top of multiple cars, including hers.
"Well, the transformer exploded," she said.
On Antrim Street, a crew moved in fast to start tossing trees into a chipper.
And over on Akron Street on Harvard's campus, another tree was down and on its side.
"We were coming back from dinner, trying to get to the T and it just started storming super hard," said Harvard student Derek Wang.
More than 10,000 customers were without power in the Bay State, according to the Massachusetts Emergency Management Agency.
The National Weather Service had warned of damaging wind up to 70 mph that could accompany any storms.
Meanwhile, hazy, smoky sky was once again prevalent across parts of New England Tuesday, prompting air quality alerts for much of the region.
If you had difficulty Monday, then that may have been the case again Tuesday. Sensitive groups and especially those with respiratory illnesses or heart disease should be extra mindful of the elevated pollutants, and were urged to avoid strenuous activity outdoors.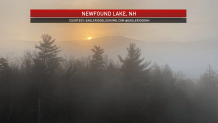 Scattered thunderstorm activity will continue overnight, tapering to some leftover showers by Wednesday morning. Overall, it'll be a less humid and cooler day with highs in the 70s.
Expect a pop-up shower or storm Thursday, mainly inland during the afternoon and evening. Not a washout by any means, and not a day to cancel outdoor plans.
Some steadier pockets of rain Thursday overnight will linger into Friday, but a drying trend is likely for the second half of the day.
Right now, the weekend is looking pretty good! Saturday is the pick (dry and partly cloudy), since Sunday will feature increasing clouds and a threat for thunderstorms by the late afternoon and evening, especially in western New England.
Much of next week will feature below normal temperatures (70s to around 80) and some periodic thunderstorm chances.